Office premises for rent – 600 m2 - Drienova Street
11,00 EUR

(11,00 EUR) m2/month
Floorage: 600 m
2
(6458 ft
2
) Agent: Mgr. Stanislav Pekelnický
Email: stanislav@realitymove.sk
Phone: 0918/ 882 524
Add to Lightbox
Print property detail
ID reality: 1151
Show on map
Pictures of property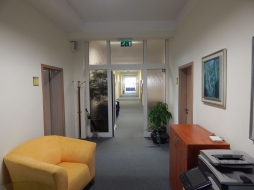 We offer for rent office premises situated on the 2nd floor of the bigger administrative building on Drienova Street in Bratislava II.

Premises are formed as a separate enclosed office wing/tract with total floorage of approx. 600 m2 and comprise of entrance hallway, 19 offices including conference room, secretariat, 2x kitchenette, storeroom and sanitary facilities.

Office standard includes: plastic windows, carpet, A/C, structured cabling. Possibillity to rent the furniture.

Building was fully renovated. Access is 24/7 through the reception. CCTV and security service in the building.

Free parking available in front of the building. Reserved parking place available for fee.

Canteen in the building, good access to the public transport.

Rental price: 11,-EUR/m2/month + VAT.

Rental price includes utilities, cleaning, security service and other services. Electricity for A/C will be charged separately according to real consumption.
Property features
» Property status: full reconstruction
» Floorage: 600 m2 (6458 ft2)
» Kitchen
» A/C